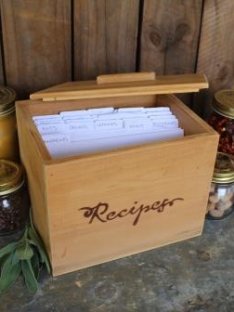 Recipe Box – Recycled Pine
$189
Box up your prized recipe collection for safe keeping or your trusty family meal plans and dishevelled magazine clippings for easy access with our rustic wooden Recipe Box.
More than just a storage solution, the Recipe Box, included with A5 recipe cards and dividers, is an heirloom in the making – a treasure chest to fill with culinary secrets and recipe gems for future generations to delight in.
Perfect for a 'special occasion' gift, the Recipe Box is the gift that keeps on giving, delicious dish after delicious dish!
Includes plain and printed recipe cards plus dividers.