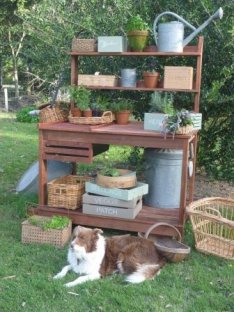 Potting Bench – Hardwood
$1080
Tired of squatting over your pots and the imminent back pain that prevails? Stay off the bench this season and raise your game with this custom-built timber Potting Bench.
Combining form and function, the Potting Bench includes removable timber grills with plastic catcher below to avoid messy overflow as well as doubling as a washing basin; a towel rail for clean up; a raised shelf to accommodate storage bins or place completed pots; two elevated storage ledges for displaying seedlings and lightweight tools; dowels pegs for added hanging space; and even a towel rail.
Customise a Potting Bench with additional hooks, rails or blackboards to complete your ultimate gardening work station.